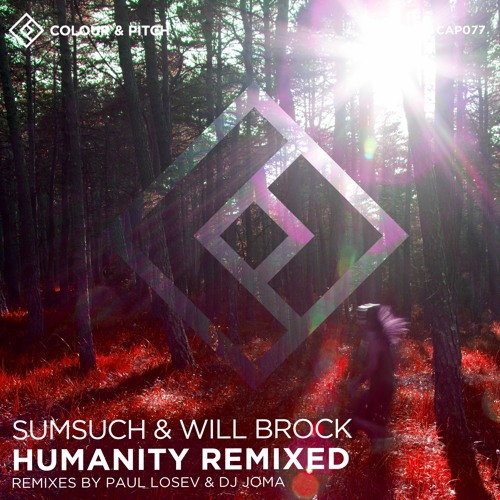 A year after the release of the original version, Colour and Pitch revisits Sumsuch and Will Brock's tender Deep House cut 'Humanity', with remixes by Paul Losev and DJ Joma.
Premiered in April 2022 on BBC Radio 1Xtra, Paul Losev's rework of 'Humanity' lifts the track into orchestral territory with cinematic sonic atmospherics and spine-tingling piano melodies. Formerly known as Paul2Paul, this is the insanely talented Miami resident Losev's first appearance on Colour and Pitch, and we're very excited to welcome him to the label family.
Host of the brilliant 'Thru The Looking Glass' podcast, Belfast's DJ Joma regularly plays on Bloop London, Data Transmissions Radio, Ibiza Global Radio and Pure Ibiza Radio. His version of 'Humanity' beautifully exemplifies Joma's languid, sun-drenched production style, perfect for the terrace this summer.
'Humanity' is perhaps Sumsuch and Will Brock's most heartfelt and accomplished work to date. Framed by Sumsuch's warm production and lyrical lead guitar, Will Brock's words and powerful delivery are a clarion cry for forgiveness, tenderness and togetherness in these times of great division.
Stream & Buy: https://li.sten.to/humanityrmx